Boston Curb Alert
In August of 2016, I worked on a project called Boston Curb Alert. The idea was simple: Use social media to aggregate unwanted household items during the big September 1st moving period.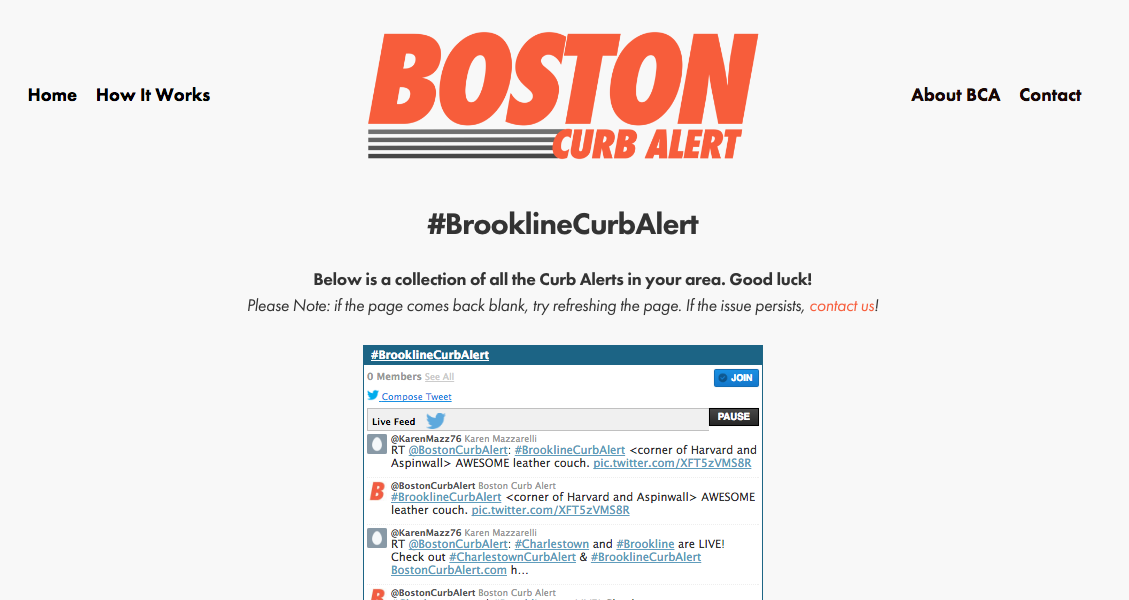 About
site's objective is to organize unwanted household items, typically left on the curbside during peak moving periods, using Twitter and community generated content.
The initial idea was to have a feed for 2-3 areas of the city, but due to demand, I quickly added 12 Boston area neighborhoods.
Conception to launch, this project took me just under 1 Week.
Reception & Numbers
12 Social Feeds
30 Custom Pages
900 Twitter Followers
5,500 Uniques During Week One
10,000 Pages Views and counting...
During the first week, we had nearly 300 tweets sent of unwanted items around the city of Boston!
Press & Media
This project gained a lot of momentum due in part to media support from the likes of:
Boston.com, "New Site Provides Insight Into the Treasure of Allston Christmas."
WBRU, "Boston Move-In Weekend Inspections."
Only In Boston, Snapchat Takeover... Yup.
Additional Support From: PBR Boston, Allston Awesome Christmas, Biddy Early's and Charlie's Pizza for feeding me all week.